Ten Signs You Are Seeing the

Wrong Doctor
December 8th, 2018
By Natan Schleider M.D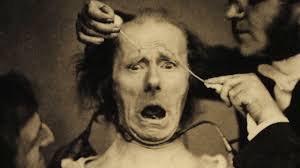 If dustballs in the corner of the doctor's exam room and bullet proof glass separating your from the receptionist aren't good enough, here are ten signs that you probably are not seeing the best doctor:
An old expression states if the ink on the diploma is to wet or too dry, seek treatment elsewhere. If the diploma is a pile of dust behind a dingy glass frame, run.
The doctor's lab coat is dirty. This simple observation reflects the doctor's hygiene and their respect for medicine. Dirty lab coat, dirty doctor.
Magazines in the waiting room are over 10 year old. This shows the office is not up on the times, that is, if they can't even update their magazines, what kind of archaic medicine is being practiced.
The doctor spends less than a minute with you and can never remember your name. While I grant many doctors are overworked, they can spare a few minutes and knowing their patient's names.
The doctor is a social media star who does nothing but tweet, post, take selfies, and promote his brand. While I'm sure these doctors are attractive and interesting, they probably are not practicing as much medicine as the good old fashioned doctor–oh, excuse me for a second, someone just liked my latest post on instagram, just joking.
The appointment is spent talking about the doctor and not about the patient (for example, 'So you just had a little heart attack, big deal, I get my coronaries rota-rootered every year and since my 8th heart attack and some Lipitor, I eat at the buffet daily).
The doctor cannot make a decision and refers you to a specialist for every problem (IE that splinter in your finger is tiny but just to be safe, let's have a dermatologist look at it to make sure nothing is being missed).
The doctor's office frequently cancels your appointment or is late for your appointment.
You arrive on time for your appointment and realize yo have read Was and Peace before being called in to see the doctor.
You are asked to disrobe in the exam room for a talk therapy visit.
I've seen variants of all of the above so keep the above in mind before choosing your next doctor.
Natan Schleider MD