A Family Doctor's Visit to See a Cosmetic Dermatologist for Sun Damaged Skin Part I: Poikiloderma

of Civatte
By Natan Schleider, M.D.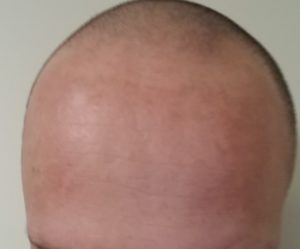 I don't wear skinny jeans. I wear flip flops whenever I can which apparently are out of style. And while starting to go bald–which I've decided to 'own' rather than pursue hair plugs or the ever-popular toupee, the sun-damaged skin on my forehead has been bothering me (only when I look in the mirror).
Having spoken to my regular dermatologist, Dr. Roy Seidenberg (great, brilliant physician), he suggested a cosmetic dermatology consult for possible laser treatment.
Now I've had laser treatment before in my early 30s: laser hair removal on my back and chest. After 18 months of treatment every 6-8 weeks for a total package deal of about $3500, my back and chest were about 60% improved but I learned one valuable lesson: as I aged new hairs began to sprout on my back and chest (not to mention my ears, yikes!). So what I presumed–and is often advertised as a 'permanent' fix–not the case with me.
Friends have raved about various laser treatment for skin as the definitive cure while many patients of mine love Retin-A, a prescription cream or gel FDA approved for anti-aging (improving fine lines and sunspots). I tried Retin-A for a few weeks but realized I was soon forgetting to apply it at night (when I was negotiating with my 5-year-old daughter Elie on the benefits of tooth brushing, a nightly debate).
Treatment for this would not be 'one and done' but would require a 'series' of treatments–the doctor would not commit on even a ballpark number but I would surmise 5-10 treatments. lasting 'minutes' after a numbing cream was applied. The stronger the laser each session, the better/faster the final results (meaning the more sun-damaged blood vessels are destroyed). If the laser is put on mild, minimal downtime, skin feels slightly sunburned, you can work same day. If laser is put on high power, skin is very red and inflamed and downtime expected to be 1 week. The cosmetic dermatologist suggested an in-between setting. oping for a 'one and done' laser treatment to leave my forehead smooth and uniform in color, I saw a cosmetic dermatologist yesterday.
I tried to get a price idea on these laser treatments before the consult but found no great source?
Anywho, while I do have a few sunspots medically called solar lentigos, my primary problem in poikiloderma, a benign discoloration of blood vessels brought on by sun exposure underlying the skin leaving colors darker and lighter.
Treatments would occur about once a month and I ultimately got a price of $450 per treatment (which I think is low in the NYC area as it is a small region of skin being zapped as opposed to chest or neck where poikiloderma occurs more commonly.
The staff seemed surprised when I declined treatment at this time. Given this would be a long expensive process with best outcomes (based on my research) about 75% improvement, I paid my $200 consult fee and told them 'I'd think about it' which I will do.
The treatment would involve some type of laser which would take a few
Any comments or experiences with cosmetic dermatologic treatments appreciated via Twitter.com or Facebook.com or Instagram.com.
Thanks for reading and I'll keep you posted if I go back for laser treatment.